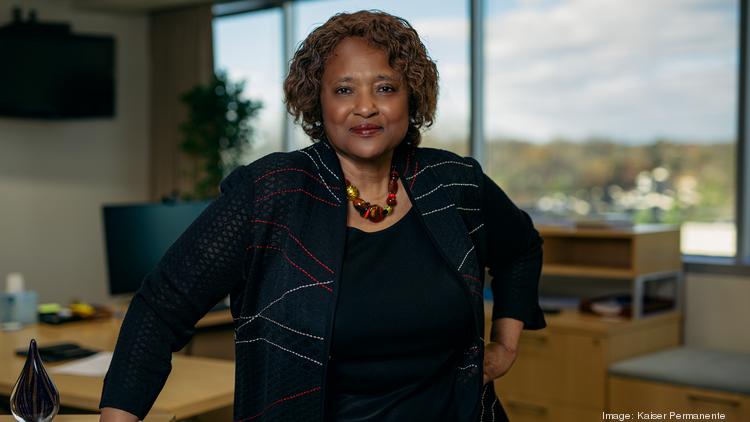 Ruth Williams-Brinkley is regional president for Kaiser Permanente of the Mid-Atlantic States.
Kaiser Permanente
Covid-19 vaccine distribution is creating complications and confusion across the region, as health providers spearhead the rollout and people search for clarity and guidance about what to do.
But D.C.-area health care leaders and industry veterans say the local business community can help — first, by making sure employees are informed.
"The Covid-19 vaccine is a vital tool for us to end the pandemic, but, unfortunately, it has been surrounded by a mix of accurate and inaccurate information," said Ruth Williams-Brinkley, regional president for Kaiser Permanente of the Mid-Atlantic States. "Employers play an important role in actively dispelling myths and fears about the vaccine by providing information on safety and efficacy in plain language."
Educate staff about the virus and vaccines
Companies can develop formal processes to make staff aware of the latest vaccine developments — something Rockville life sciences firm The Emmes Co. has done, said Dr. Christine Dingivan, its president and CEO. The organization, which conducts research and clinical trials for public and private sector customers, holds a coronavirus update every two weeks during which its chief medical officer reviews surveillance data from scientific sources for the region and the company's other locations, she said.
For Inova Health System, which has administered more than 70,000 vaccines to its own staff and community members, education is key for "all community leaders" to keeping distribution otherwise moving in the face of a supply slowdown, said Dr. Stephen Jones, its president and CEO.
"The fact is over 2,500 people die from Covid every day. The vaccines are safe and effective," Jones said. "Understanding the science and rigorous safety measures in place to develop the vaccines is an important step in helping everyone in our community be ready to get their doses when it's their turn."
That becomes only more important as mutations of the virus from the United Kingdom, South Africa and Brazil spread to Greater Washington, MedStar Health President and CEO Ken Samet said at a recent Economic Club of Washington, D.C. panel. The variants "transmit quicker, which means we have to do everything possible not to let that happen; that means take the vaccines when you can, and it definitely means — we have to keep beating this drumbeat — wear a mask, social distance, be smart."
"We can control this, and I know this has become a political issue, but it's absolutely not," Samet said, adding: "We'll save lives, while we're getting to hopefully some community immunity."
Enlist experts to debunk myths
Businesses may also consider partnering with health care organizations to keep their staff informed, as physicians and other medical professionals are increasingly viewed as trusted, credible sources of information, Williams-Brinkley said. Kaiser has held virtual sessions with vaccine experts, for instance, so employees can ask questions about the two vaccines currently available.
Still, the choice to get a vaccine is personal "and it is important for leaders to respect this decision," Williams-Brinkley said. "However, it is our role as leaders to ensure that employees have accurate information to make this a sound and informed decision."
At Kaiser, Williams-Brinkley said she has openly talked about her own decision to receive a vaccination. The organization has also set up an internal system for employees to share photos of their vaccination experiences and reasons for doing it, she said.
"As a leader, if and when you get vaccinated, tell your employees why you made this choice," she said. "And, tell them how you felt physically after the vaccination. Encourage other leaders to do the same, if they are comfortable."
Clear hurdles for vaccination — and collaboration
Greater Washington executives can also take steps to make the vaccination process less cumbersome for employees interested in getting vaccines.
"We're trying to make it easy for people to get vaccinated in terms of checking our insurance coverage and trying to gather information on the status of vaccine availability," said Dingivan of Emmes.
It's also a logical moment for companies to think about their remote work policies, "when and if we will ask people to come back to the office," Dingivan said.
"What will be the situation when vaccine distribution ends? Will we all need to be vaccinated in terms of being able to be in public places?" she said. "We just don't know yet what the guidelines will be, but we're trying to stay on top of that."
Collaboration, too, is critical to elevating awareness about the pandemic and what's still needed to end it, said Vipin Garg, president and CEO of Altimmune, which is developing an intranasal vaccine for Covid-19. "We know there isn't one solution, and continued investment in improved vaccines that not only protect from disease but also block transmission is needed."
"We need an unwavering commitment to knowledge-sharing among industry, governments and academia in order to improve how we address vaccine rollout efforts, both here and abroad, to ensure the world's population has access to much-needed currently authorized vaccines," Garg said. "We also need to continue the development of next-generation vaccines as our industry continues to make an unprecedented contribution to this vital global effort."